Post pics of your Fiesta here.

Well, a tiny update.


Have been driving the fiesta to the European Ford Event, which is in fact a bit smaller then it used to be, but since last years fiasco (with canceling the permits for track sessions on the last day) it was a good show this year.. WITH track action.

For me it's just over an hour drive, by mainly the motorways.. only the last few kilometers are by the local roads..
With the rain pooring down the day before, the road was a bit wet at some spots.. but the motorways were clean.. and only slight muc was coming of the road.. but the last few kilometers.. the fiesta got DIRTY )-:

So had to wash the car all over again ..

Apart from the washing, the venue itself was a success for me. The sprint (200m) and slalom was great fun to watch.
Spoke to a lot of people again .. and was parked next to Wiseman (Andie) from the UK, which joined us with Fiestaclub.nl stand.

On the trip back .. rain.. so not really nice to 'test' out the vehicle..

The B&M is a bit getting used to.. shifting is a lot quicker, but you don't want to shift too quickly with it.. but the best.. i don't have to get out of the recaro seats anymore to shift to or from 5th gear (-:
Using the anti-virbation mounts, no addition fibration was noticeable.

The brakes again brake like they should.. what a difference a mm makes in this case..


Yesterday passed the MOT again for ayear.. without issues.

Only downside .. i have to replace the waterpump (after 8 years of good service) .... but that's just maintenance.. only covered 20.000 kilomteres in those 8 years.. (-: wich is around 13k miles.
*If you start to see in Black and White, you know you're pulling enough G's*
Elite Post Master

Posts: 1492
Joined: Tue Aug 06, 2002 7:53 am
Location: Holland
---
Sponsored Links

(not a real person)
---
My fiesta , along side Wiseman's .. @ EFE 2011 here in the Netherlands.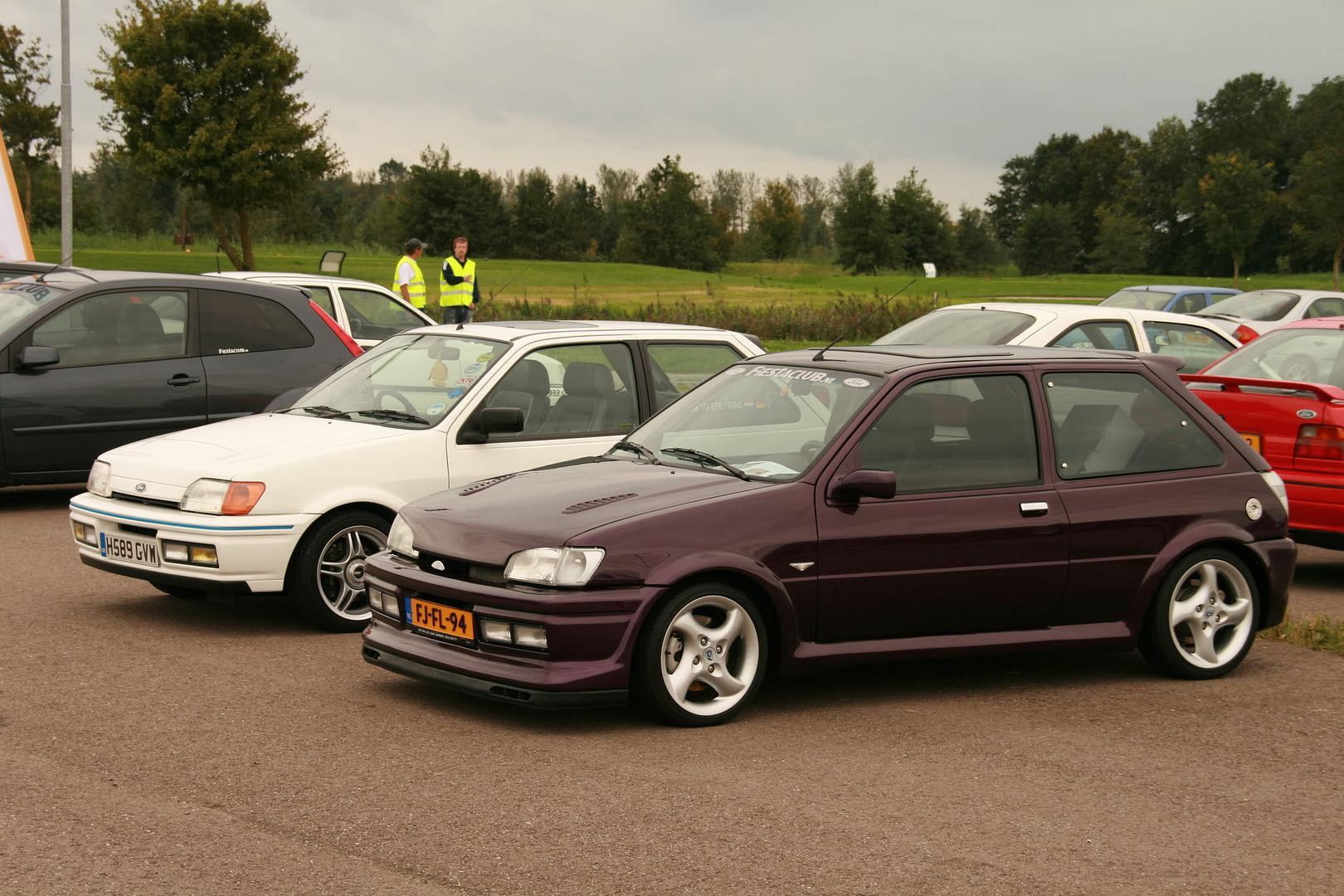 P.s. it looks like i will visit FITP again this year, hopefully with the purple fiesta, otherwise i will kidnap my wifes 2011 5 door (-:
*If you start to see in Black and White, you know you're pulling enough G's*
Elite Post Master

Posts: 1492
Joined: Tue Aug 06, 2002 7:53 am
Location: Holland
---
I had some issues with coolant leakeage ..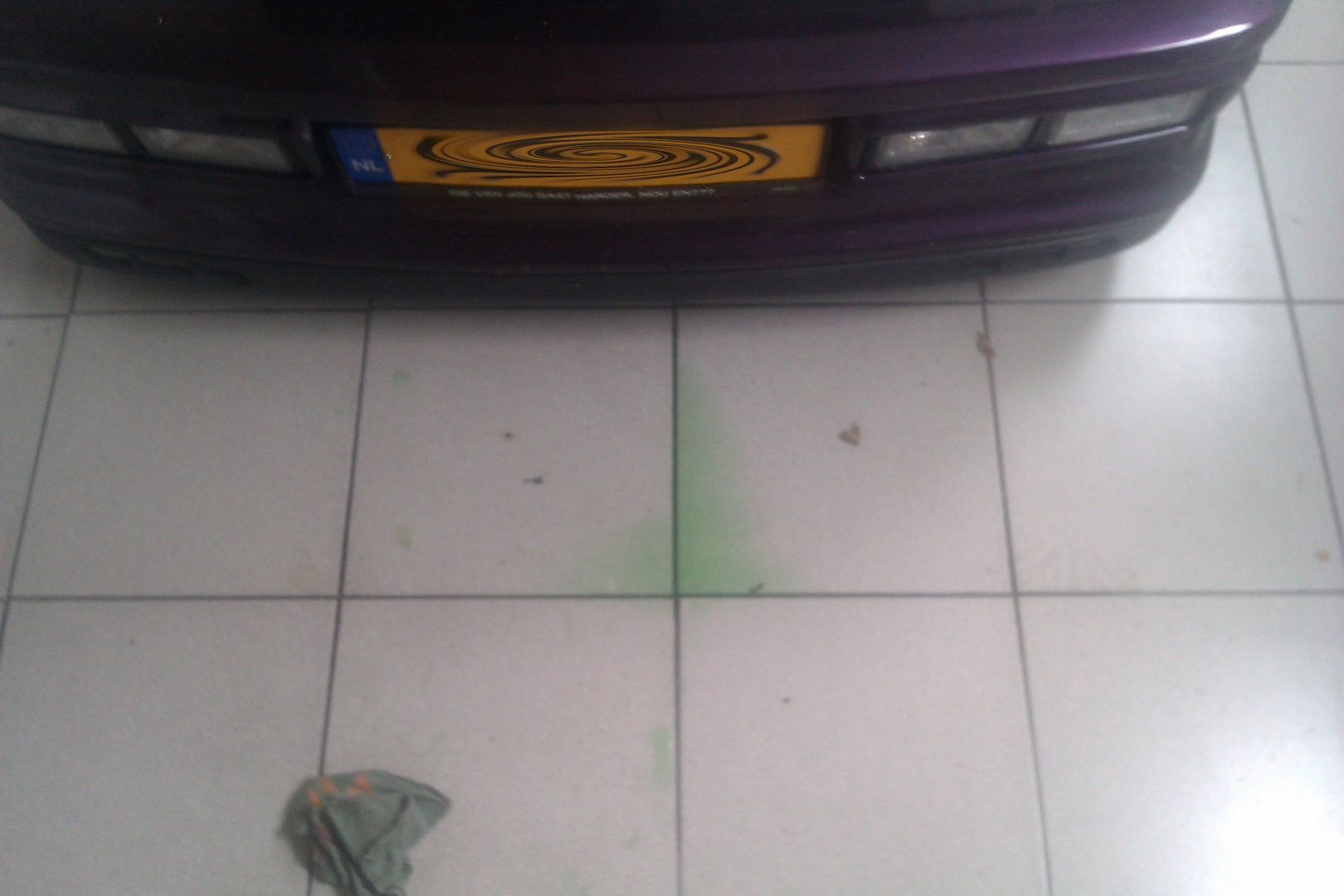 The odd thing is, it only leakes during engine cooloff.
I don't loose any coolant during driving.
During engine cooloff (when parked up) it seems to leak due to the turbo still being hot and heating up the radiator area (boiling sounds in the radiator)
So probably has to do with some pressure that builds up then, which need to go somewhere.
When checking, the only fault i could find was a sweating coolant hose from turbo to radiator.
It had seen it's best times anyway, and was already going to replace it soon. But couldn't get my hands on the correct hose (in a good state)
so had one made up by Roose Motorsport.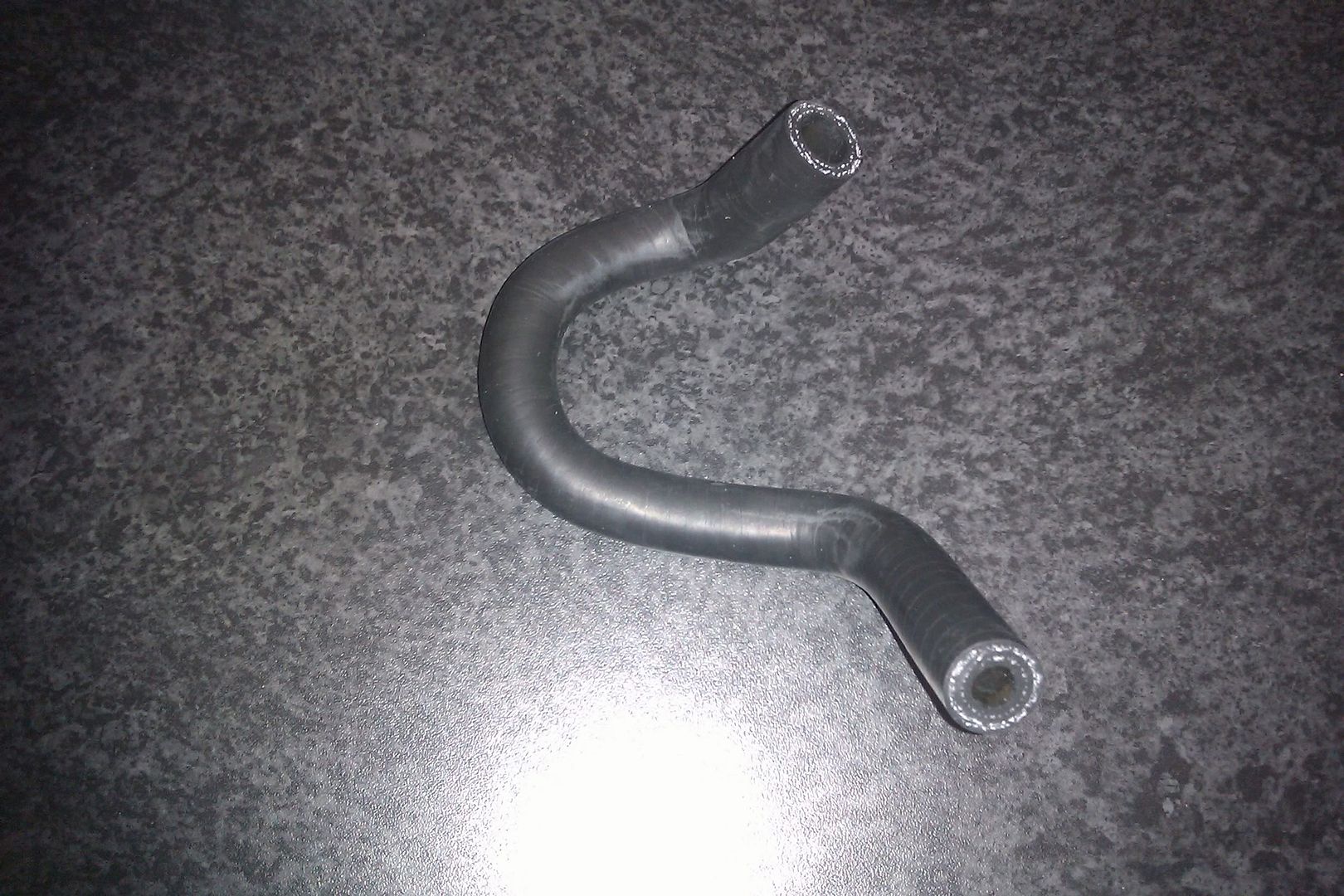 After replacing this one, had the engine run till it was @ operational temperatures..
Left it over night to cool off, no leakage.
Then got it out to drive for 45 mins to an hour.. put it back in the garage, no leakage
Finally got it to a clubmeet. 1 hours drive, then a puzzle rally, and back 1 hours drive.
No leakage at first... but when i got the car out a few days later in preperation of FITP .. a small amount of coolant was on the floor again.
I now suspect either the other collant hose (turbo to thermostat ), the turbo connections itself or possibly a leakage on the radiator itself. Can't seem to find the actual issue.
As it is only visible after cooling down, i don't suspect to be of a great issue on our way over to FITP. and will check regularly. ... but the plan is still to use the purple fiesta to bring.
But the wifes fiesta isn't a shame to bring.. just in case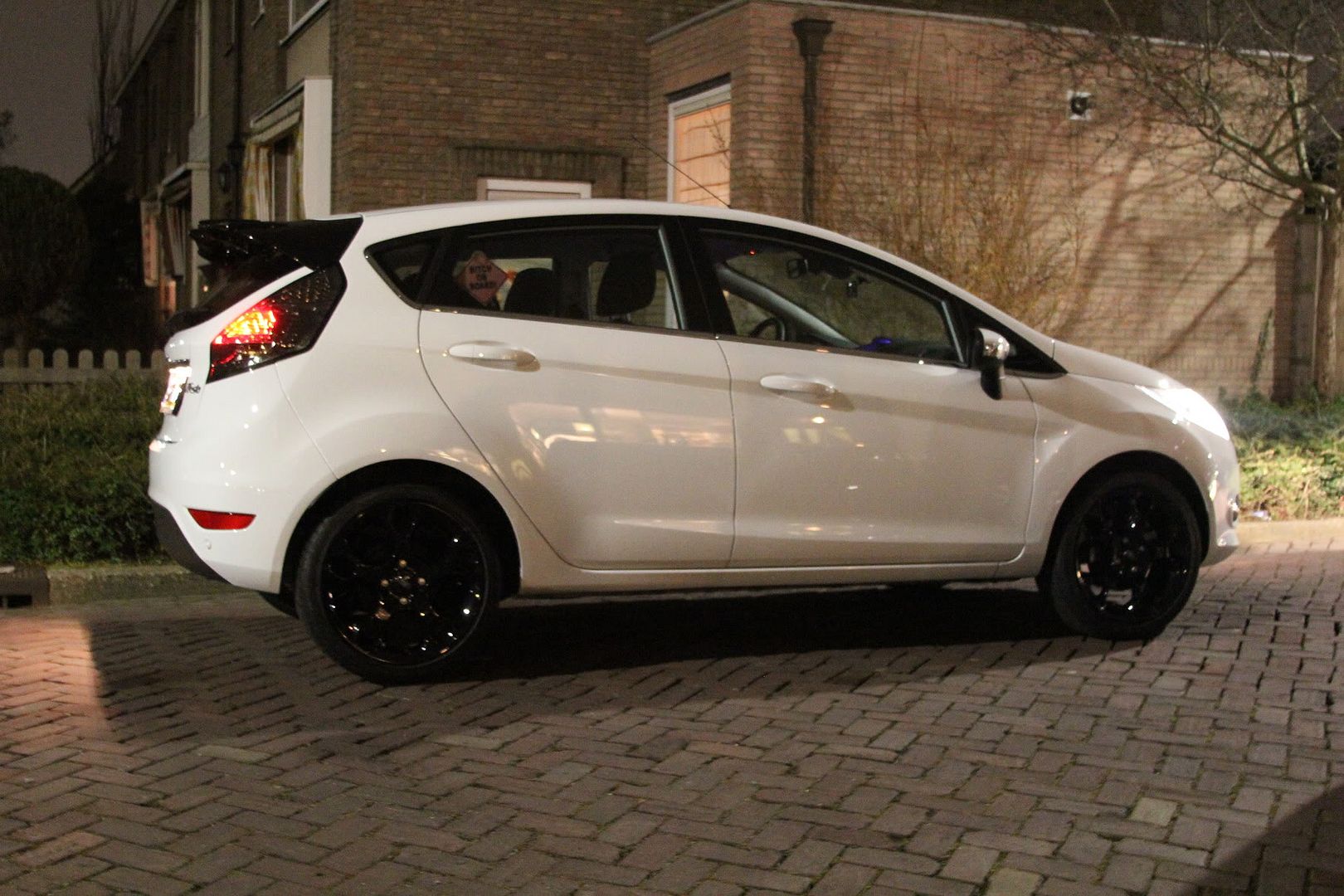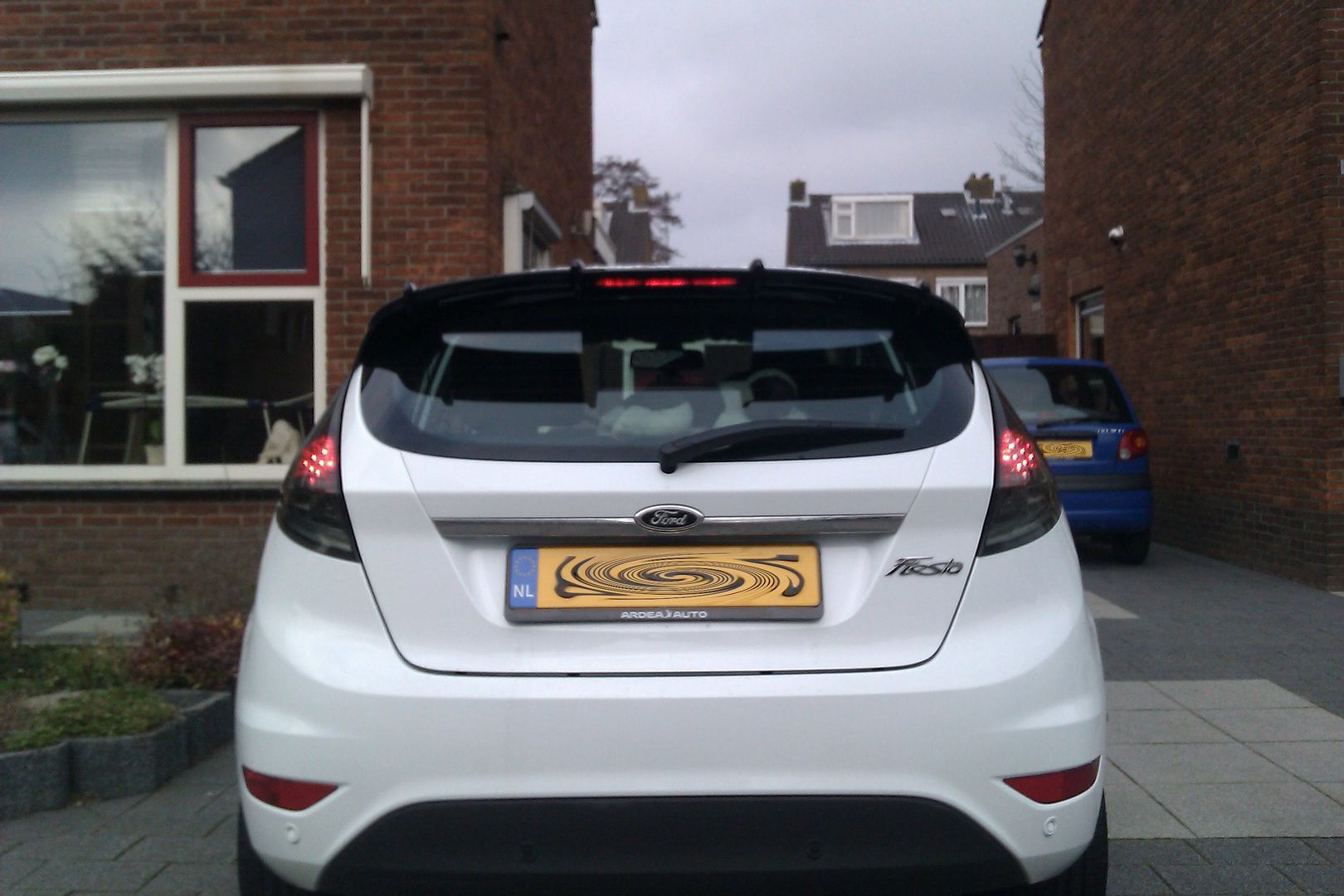 *If you start to see in Black and White, you know you're pulling enough G's*
Elite Post Master

Posts: 1492
Joined: Tue Aug 06, 2002 7:53 am
Location: Holland
---
Apart from the leakage,

since i'm not driving a fiesta (zetec s) daily anymore, but a large family sized SUV ( of needing to tell you it's an Mitsubishi ASX 1.6 117 BHP, lacking of some real power, but o so handy for transporting the family and other goods :-p) .. , i missed out on the power lately.

When i drove the fiesta again (with near 200 BHP) it was all of a joy. The gearbox which we replaced last year runs so smoothly, and the B&M shifter we placed at the same moment is such a joy (not having to get out of the seats every time i need 5th gear) ..

The only downside.. the Zetec-S was sumwhat sporty, the step to the mk3 wasn't that big, now i go from HIGH comfort .. to comfortless when i get into the mk3, and this takes getting used to.
In stead of getting into the mk3, i tend to wear it (with my 6'6" of Dutch tallness) .. but it GOOOOOOOESSSS as soon as you hit the throttle.. which puts a big smile on my face.
*If you start to see in Black and White, you know you're pulling enough G's*
Elite Post Master

Posts: 1492
Joined: Tue Aug 06, 2002 7:53 am
Location: Holland
---
---